Custom Programs
Customize a program within any of our locations!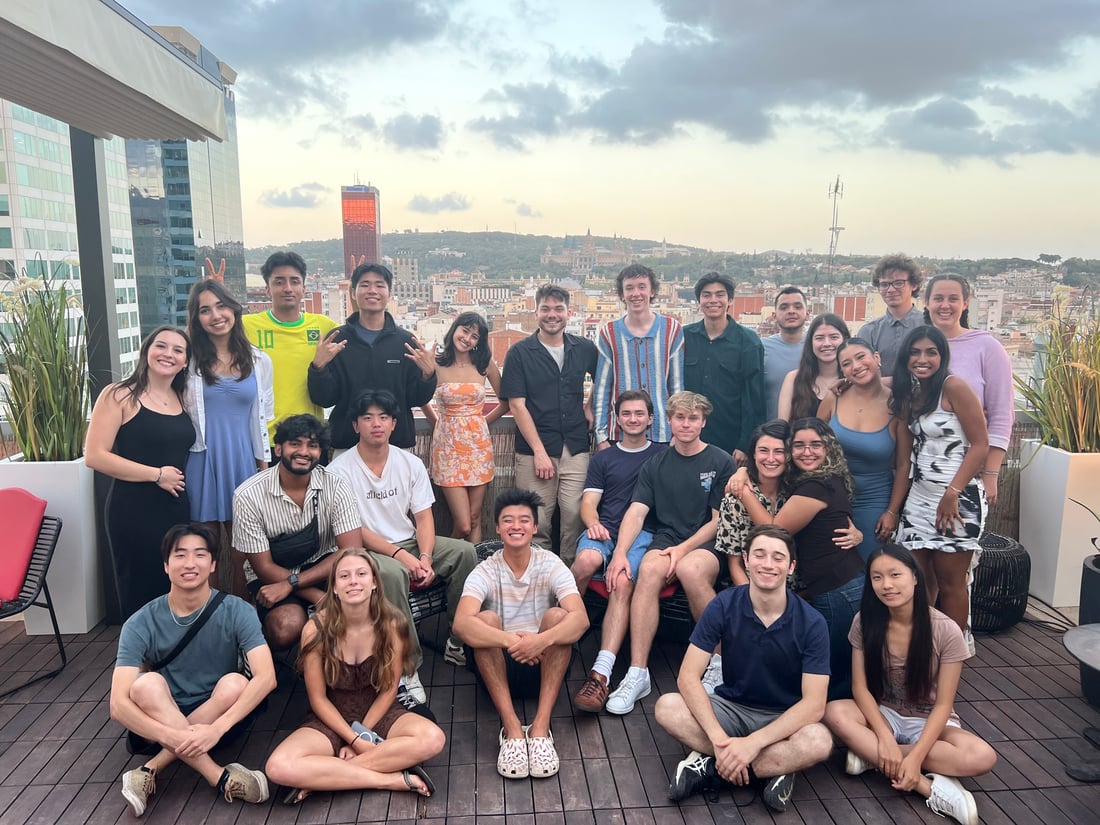 Choose from any of our program options and locations, and work with us to build the program that best fits your academic and institutional goals. Whether it's a faculty-led program, an internship or service learning experience, a study program, or a combination of both, our team will collaborate with you to design what best suits your needs. Within every model, CIS Abroad guarantees consistency in communication, academic and logistical expertise, 24/7 onsite support, diligent planning, and professional execution.
At CIS Abroad, we believe that international experiences positively impact our students, and they, in turn, positively impact the world. Our core purpose is to spark growth. We envision a more connected and compassionate world transformed through individuals who have traveled, lived, and learned abroad. 24,000 students have studied abroad with us; we look forward to your students joining us on the program you design!
As US universities work to internationalize their curriculum, many educators are seeking to identify programs that closely align with the needs of various departments on campus. CIS Abroad can help you to develop a custom program that allows you to control the academic content so students can fulfill meaningful coursework in their major and minor fields.
Plugging into our existing program infrastructure, but making it your own, means you don't have to build a program from scratch! Select a course at one of our local institutions that compliments your course. Let us hire faculty abroad to teach a specific course your students need to complete their degree. Pair your course with a specific internship placement that provides your students real world experience in their desired field. Internationalize your departmental curriculum by establishing course equivalencies with one of our host institutions abroad - we'll help you all along the way. Combined with our support staff and variety of inclusions and excursions, the end result is a tailored, quality program that's not just a good fit for your students and your program objectives, but also fun and "easy" to build together.
If you're interested in building your program from scratch, we do that as well. Enroll your students in a specific course you wish to teach abroad and we'll find guest lecturers and culturally rich excursions that align with your syllabus. Choose internship or service-learning placements that align with your departmental goals. Determine dates and locations that work with your academic calendar. We have the expertise you are looking for and invite a conversation with you.
No matter your needs, we work closely with study abroad offices, faculty, and academic departments to collaboratively build and implement high quality international opportunities for you and for your students. Whether it's a faculty-led program, enrolling students in a specific course, an internship experience, or a new idea altogether, our team looks forward to designing the program that best meets your needs. We are ready to design the program that best meets your institutional and course goals.

2. Which Custom Program Model is Right for You?
With so many possibilities, it can be difficult to decide which model is the best fit. Our team welcomes the opportunity to understand your needs, explore the options, and provide the tools you need to make the best choice for your program objectives.
Tailor a CIS Abroad Program
We'll help match an existing CIS Abroad summer, semester, J-term, or Maymester program that fits your curricular needs for a study, intern, study+intern, or service learning program. In collaboration with our host institutions and partners, you can:
Teach your course alongside a locally taught course
Guarantee a specific course(s) on offer
Guarantee specific internship placement field and contact hours
Curate specific housing, excursions or activities, and other inclusions
And much more!
You decide what you'd like to tailor, and we'll deliver it!
You teach the course and we develop and implement the logistics and cultural excursions and activities to support it. Our goal is to provide faculty and our university partners the opportunity to focus on the academics and give you tools to help in the recruitment for your programs, and let us take care of the rest.
Summer on the Italian Coast - Engineering
Tailor a CIS Program: 10 Weeks in Italy

Rising sophomore Engineering students from the University of Michigan earn core credit in Physics, including a lab. Students choose from taking additional non-technical courses taught by faculty at the Sant'Anna Institute, or they opt into a practical work experience within the local or neighboring community during which they can also earn a microcredential (or both!).
Computer Science & Engineering
Intern in Barcelona - Computer Science and Engineering
Tailor a CIS Program: 6 Weeks in Spain

Students enroll in six week placements that match their professional and personal interests and align with their career goals. Interns earn up to six credits from the University of California - Davis while working in companies in Barcelona that specialize in Environmental Science, Urban & Design, Chemical, Electrical, Mechanical, Robotics, Food, and the Business of Engineering.
Environmental Studies, Political Science, Spanish and more…
Semester in Costa Rica
Tailor a CIS Program: 13 Weeks in Costa Rica

Students pay The College of New Jersey tuition and enroll in pre-approved courses in a range of topics, such as Costa Rican culture, environmental studies, or political science, at Veritas University in San Jose, Costa Rica. U.S. based faculty have the option of joining the program to teach their own course for the duration of the semester, or during an intersession alongside Veritas' spring and fall terms. Courses are already reviewed and given course equivalents by home school faculty so that all courses will count for TCNJ credit and grades will factor into students' GPA.


Build Your Program: 2 Weeks in Thailand

Learn and interact with healthcare professionals and pharmacy systems in Thailand! By experiencing the culture of Thailand, understand why their healthcare is structured the way it is, understand regulatory processes and communicate with healthcare professionals about public health challenges, policy, and medication use system in Thailand.


Chemistry and History of Chocolate
Build Your Program: 1 Week in Costa Rica

Explore Costa Rica's rich and sweet history of the chemical processing and cultural significance of chocolate. Visit a local chocolate company for a tasting and tour, travel through an indigenous reserve to understand the traditional uses of cacao and chocolate, and much more, all while understanding the processing and importance of this ancient food.
Build Your Program: 10 Days on the Italian Coast

Spend time on the beautiful Italian Coast, in the town of Sorrento, learning about the Italian Educational System. Visit with local schools and organizations that offer educational opportunities and activities for children in the community. Partake in a cooking class and excursions to Pompeii and the Amalfi Coast as well!

4. What's Included?
Depending on the level of customization that meets your needs, the following are available as inclusions in our program packages:
Before the program
CIS Abroad support services before, during, and after the program*
Pre-departure orientation*
Academic advising
Financial aid counseling
Round-trip international airfare
During the program
Airport Pickups*
Cultural and recreational excursions and activities*
Full-time tuition and fees and/or internship credit through Jacksonville University
Housing*
Meals
Medical and accident insurance*
The Local Life cultural program*
Gratuities
Assistance with travel arrangements*
Ground transportation
Classroom/facility space
Special Requests*
After the program
Official transcript
On-site support*
Micro-credential certification
Alumni Ambassador program
*Available in every location regardless of custom program package
5. Destinations
When venturing into uncharted territory, or a new destination for your university, we are here to ensure program quality and student safety.

Tailoring an existing CIS Abroad program location allows you to expand your offerings in any location where we operate our semester and short-term programs. Tailored program options are currently available in:
Australia (Gold Coast, Newcastle)
Costa Rica (San Jose)
England (London)
Greece (Athens)
Ireland (Limerick)
Italy (Florence, Rome, Sorrento)
Japan (Tokyo)
Scotland (Edinburgh, Stirling)
South Korea (Seoul)
Spain (Barcelona)
Thailand (Chiang Mai, Bangkok)
Build your own program options are currently available in:
Costa Rica
Italy
Thailand
6. Next Steps
Follow the next step that applies to the model you are most interested in and our team will be in touch soon!
Tailor a CIS Program
Interested in tailoring a program around one of our already established semester, summer or J-term programs? Please email us at customprograms@cisabroad.com.


Build Your Program
Interested in building your program? To request a proposal, please complete our questionnaire. Answer the questions to the best of your ability, and let us know if there is an area you could use more help with.